Note: This is a backup copy of my previous personal website when I worked in the School of Computing, Dublin City University during 07/2012 and 06/2018. My current personal website is
here
.
---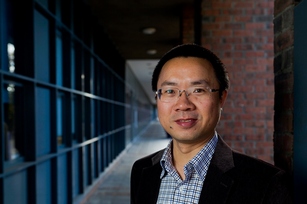 Name
Qun Liu
Title
Professor, Dr.
Affiliation
ADAPT Centre (formerly CNGL)
School of Computing
Dublin City University (DCU)
Position
Principal Investigator
Research Theme Leader
NLP Group Leader
Teaching
CA146/CA297: Introduction to Programming
CA247: Advanced Programming
CA684: Machine Learning
Project Tutoring
Research Interests
Machine Translation
Natural Language Processing
Research Topics
My research work focuses on Natural Language Processing and Machine Translation, its theory, technology and application, including:
Morphological Analysis
Parsing
Semantic Processing
Statistical Language Model
Machine Translation
Named Entity Recognition and Information Extraction
Large Scale Linguistic Resource Construction
Evaluation Technologies for Natural Language Processing and Machine Translation
Chinese Language Processing
Publications
Please visit the following websites for my publication list and citations at:
Codes
Talks
Supervision
Christopher Hokamp (2013-) (FP7 EXPERT): Investigation of the ideal infrastructure for computer-aided translation: pipeline with NLP tools for pre/post-processing, SMT, EBMT and TM techniques-a hybrid CAT tool
Liangyou Li (2013-) (FP7 EXPERT): Investigation of how each individual corpusbased translation approach (TM, EBMT and SMT) can benefit from each other
Jian Zhang (2013-) (CNGL II T&L): Domain Adaptation Based on Multi-Dimensional Quality Estimation, Similarity Metrics, Clustering and Search
Iacer Galixto (2013-) (CNGL II T&L+S&D): Machine Translation and Cross Language Information Retrieval
Peyman Passban (2014-) (CNGL II T&L): Syntax and Semantics-Enhanced Machine Learning Based MT
Longyue Wang (2015-) (ADAPT Theme B): Deep Learning for Machine Translation
I also have students at CAS-ICT. Please visit
my website at CAS-ICT
for details.
Professional Services
Journel/Associate Editor:Machine Translation (2011/12-present), ACM Transactions on Asian Language and Information Processing (TALIP) (2010/6-2011/12), Journal of Chinese Information Processing (2006-present)
Journal/ReviewerMachine Translation, ACM Transactions on Asian Language and Information Processing (TALIP), Journal of Chinese Information Processing, Journal of Computer Science and Technology, Journal of Computer Research and Development, ACTA Automata Sinica
Conference or Workshop/Chair: ACL2013(workshop co-chair), IUCS2011(general chair), MT SUMMIT 2011 (organization co-chair), EMNLP2010(area co-chair), COLING2010(area co-chair), CLP2010(PC co-chair)
Conference or Workshop/Reviewer: NAACL-HLT2013, ACL2013, EMNLP2013, IJCNLP2013, IALP2013, MTSummit2013, PACLIC2013, RANLP2013, SLSP2013, NAACL-HLT2012, ACL2013, EMNLP-CoNLL2012, COLING2012, AMTA2012
Organization Duties: ACL SIGHAN (Information Officer of China, 2011/12-2013), Chinese Information Processing Society of China (Executive Council Member, 2012-present)
Experience
2012/07-present: Dublin City University
2003/11-present: University of Chinese Academy of Sciences (UCAS) (part time), Professor (from 2005)
1992/07-present: Institute of Computing Technology(ICT) at Chinese Academy of Sciences (CAS) (part time from 2012), Researcher, Professor (from 2005)
Education
1999/09-2004/05:Studied (on-job) and got Ph.D. degree in the Institute of Computational Linguistics in Peking University
1989/09-1992/07: Studied and got M.S. degree in Computer Sciences in Institute of Computing Technology, Chinese Academy of Sciences
1984/09-1989/07: Studied and got B.S. degree in Computer Sciences in University of Science and Technology of China
Email
qun(dot)liu(at)dcu(dot)ie
Personal Homepage
Post Address
ADAPT Centre
School of Computing
Dublin City University
Glasnevin, Dublin 9, Ireland
Links